Contact
I am located in Saint Petersburg, Florida. Please contact me using the e-mail below.
Serious inquires only please!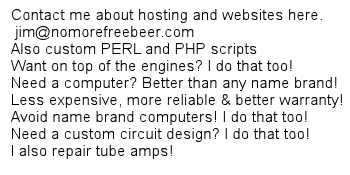 Here is one of my latest creations: AlexSandor.org Beautiful Paintings. Buy one!
| | |
| --- | --- |
| Need a source for computer parts, iPods and stuff? There is none better than NewEgg! Best prices, shipping and they do not automatically charge sales tax to most states. Avoid the high prices at the local electronics warehouses! I have been using NewEgg for years! Fast, reliable, and great product reviews. | |
Webmasters! Check out these money makers!!!!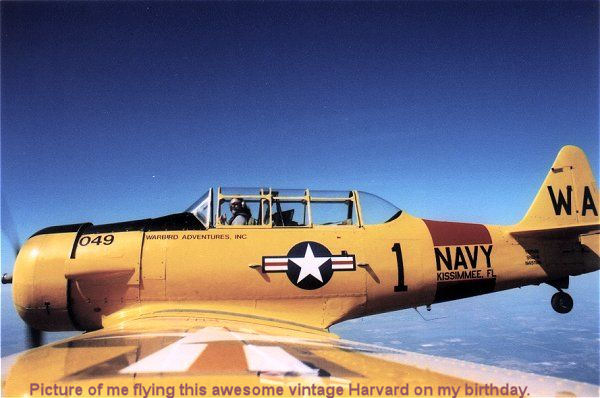 I flew this plane on my birthday thanks to Stephayne! My instructor Jon was ducked down in the back for the photo. However, there is a twist to the story. I was listening to the news one day and I heard about a local vintage plane crash. It was a Warbird Adventures plane. I came to find it was the exact plane I flew. I also found out Jonathon had died in the crash. He was the guy I flew with.
Here is the article:
By Bill RuftyThe Ledger
LAKELAND — Workers anticipated they would remove the final pieces of a crashed World War II trainer from a densely wooded area on the east side of Lake Pierce late Wednesday, a National Transportation Safety Board investigator said. The SNJ-6 Harvard single-engine aircraft crashed shortly after 4 p.m. on Monday, killing pilot Jonathon Hedgecock of Kissimmee and passenger Jim Kern of Springer, Okla.
Emergency personnel worked for two days at the crash site because of the difficulty in getting into the area and the fact that the plane was partially buried, having created a crater upon hitting the ground. The Polk County Medical Examiner's Office confirmed it had received the victims Wednesday morning.
The aircraft will be taken to Groveland so government aviation specialists can study it to determine the cause of the fatal crash. It could be at least six months before the agency can begin to issue a report on the crash and pinpoint a cause, said Eric Alleyne, NTSB investigator from the agency's Atlanta regional office. "There are a couple of parts that will have to be sent to our lab in Washington for further examination," he said. "The plane will be in a holding area until we can transport it to Groveland, where we will begin the physical investigation of the aircraft. "Because of the condition of the wreck, it will take time to study the crash," he said.
Federal investigators working with the Polk County Sheriff's Office completed measurements at the crash site and interviewed at least three witnesses to the crash. Hedgecock was a pilot for Warbird Adventures Inc., in Kissimmee. The ages of the two men have not been released.
Bill Rufty can be reached at bill.rufty@theledger.com or 863802-7523. Ledger reporter Amber Smith contributed to this report.
Webmasters! Check out these money makers!!!!
Banned from Google? Check out this post!