Busch Gardens News

A Legacy of Environmental Commitment
Did you know the world's largest brewer is the largest recycler of aluminum beverage cans and one of the largest purchasers of recycled products in the nation?
Anheuser-Busch does all of these things and more when it comes to conserving natural resources and protecting the environment. The company's commitment can be traced to 1899, when it was the first to recycle spent brewer's grain for animal feed. The parent company of SeaWorld and Busch Gardens, Anheuser-Busch not only makes environmental stewardship an important operating principle at its facilities, it also works beyond plant boundaries to bring about a better environment. Partnerships with organizations ranging from Conservation International to the National Wildlife Federation work to safeguard wildlife and its habitat for future generations.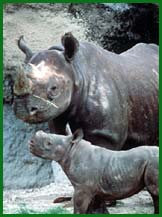 Leading the Way
Each year, millions of guests experience unforgettable animal adventures at our parks. Behind the scenes, however, a different sort of adventure unfolds each day. For more than 40 years, we have been committed to wildlife conservation, animal care, education and research. Here is our story …
The Story of J.J.: An orphaned gray whale was found beached on the California shore. Weak and dehydrated, she had only one chance for survival — SeaWorld. Upon her arrival at SeaWorld California, J.J. began the road to recovery and was released back into the world.
Making History: Busch Gardens Tampa Bay was the first to create an open-range animal habitat, home to hundreds of African animals. The park opened the 60-acre "Serengeti Plain" in 1965 with outstanding success and Busch Gardens Tampa Bay became a model for animal parks around the world.
To The Rescue: No other organization rescues, rehabilitates and releases more marine animals than SeaWorld. In the past five years, more than 3,000 animals have benefited from the parks' dedicated veterinarians, animal care specialists and marine biologists.
365 Days a Year: The SeaWorld Animal Rescue and Rehabilitation Team responds to calls 24 hours a day, seven days a week, 365 days a year. In Florida alone, SeaWorld has rescued more than 200 manatees. And, by working closely with state and federal agencies to collect data, SeaWorld animal care specialists are playing an integral role in helping bring the endangered manatee back from the brink of extinction.
The Adventure Goes Far Beyond Our Parks
From Antarctica to the Arctic, SeaWorld and Busch Gardens are working to save some of Earth's most endangered species, habitats and entire ecosystems. We're even at work in your own backyard …
Arctic
Using satellite transmitters, SeaWorld supported researchers tracked female polar bears to find out more about their denning habits. SeaWorld also supports field studies focusing on the biology of beluga whales.
North America Hawaii
SeaWorld supports field research on humpback whales.
Africa Congo
Busch Gardens funds research on the social system and behaviors of the endangered western lowland gorilla and elusive bongo antelope in the northern Congo.
Busch Gardens supports bio-acoustic research on hippo vocalizations, both above and below the water. In addition, the park supports studies in Kenya on the behavioral, reproductive and social systems of the spotted hyena and African lion.
South America
Brazil: Busch Gardens supports conservation efforts to protect the endangered Lear's macaw and its food source, gather behavioral data and monitor nest sites. Busch Gardens is the only zoological park in the world to have successfully bred the Lear's macaw.
Asia
Sabah, Malaysia: Busch Gardens supports an ecological study on the endangered Bornean orangutan, a primate native to the tropical forests of Borneo and Sumatra. The research project studies the social and behavioral habits of these primates in a secondary growth forest.
China: With the American Zoo and Aquarium Association, Busch Gardens funds research in China to protect, preserve and learn about the giant panda. Special attention is paid to habitat requirements and current threats to survival.
China, Yangtze River: SeaWorld supported the IUCN/Conservation Breeding Specialist Group, which develops plans for rare and endangered species, including the Chinese river dolphin and South Pacific sea turtles.
Australia
Busch Gardens animal care specialists have traveled to Australia to help map existing koala habitat. Due to habitat destruction in its native country, the koala's survival may ultimately depend on this study as well as successful breeding programs at reserves and zoological facilities like Busch Gardens Tampa Bay.
Europe
Mediterranean: SeaWorld supports the Mediterranean monk seal recovery plan through the IUCN/Conservation Breeding Specialist Group.
England: SeaWorld created a "World of Whales" education program, including a teacher's guide and video, for schoolchildren throughout England.
Antarctica
Hubbs-SeaWorld researchers studied penguin vocalizations in the field to determine — of all things — gender. This information is shared with SeaWorld California, which in 1980 became the first zoological park to successfully breed emperor penguins outside of Antarctica.
Recycling at Busch Gardens and Adventure Island Tampa Bay
B.E.S.T., Busch Environmental Support Team, researches and encourages recycling efforts within Busch Gardens and among staff. In 1995, the parks collected more than 480 tons of cardboard, paper, aluminum, batteries, plastic and scrap metal, which represents a 37 percent recycling rate for solid waste.
Busch Gardens and Adventure Island strive to conserve well water by using reclaimed water stored in retention ponds for irrigation. The environmentally conscientious landscaping of the "Land of the Dragons" children's play attraction received the 1995 Environmental Improvement Merit Award from the Associated Landscape Contractors of America for utilizing native plants and park compost.