Very cool tee-shirts. You can even design your own! Open a free tee shirt store of your own too! Totally free and you set the comissions! Are you an artist? You can earn a commission whenever someone uses your graphic on an item. How cool is that? This is a real good resource and WILL make you some cash.

Christmas, holidays, fund raisers, concerts and political events are just a few things to consider. WAY cheaper than making your own shirts and much better quality as well.

Just visit Spreadshirt to see for yourself.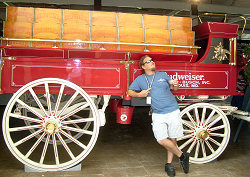 Now that I have your attention………. My name is Jim Conzett. I made this site because of our love for Busch Gardens. I am not a business, company or anything of the sort just one man trying to get my families point across. Actually, I am a "retired" engineer and machinist who is currently un-employed. I will host and make sites for food! I hope you find the information here interesting and informative. Thanks to all of you for visiting.
I believe InBev will most likely be selling all the Anheuser Busch theme parks. I will follow up with some information that has been made public knowledge however, many of the people I talk to are just not informed. The media has only briefly mentioned the fate of SeaWorld, Busch Gardens, Aquatica, Discovery Cove and the Adventure Island theme parks. I honestly think only InBev knows.
I grew up with Busch Gardens Africa in Tampa, Florida since I was a teen. I was there when it first opened. We have been Platinum Pass holders since the first day they were released. We waited in long lines in the Florida sun to get ours. Seven passes, one for each of us. My kids grew up going there up to six times a month. At $11 per person per month, who can beat it!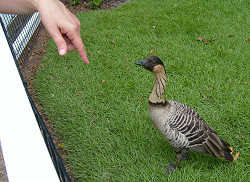 I have watched many animals there grow from little ones to adult. I especially like to visit the Nene Geese and also the Flamingo area near the bat cave. When the Geese were babies, my fiancee and I would talk to them through the fence. Eventually they became familiar with us and would seemingly run to greet us, running away from others. One time, one of them had a bad "cough" so, we reported it at the front desk. We thought it may have been a piece of popcorn gone down the wrong way. The employees immediately jumped to action. Our raspy Nene buddy was there and fine the next time we visited. They actually moved them to the area by the Clydesdale stables. When you watch them grow up you get attached a little.
The Flamingo area is one of our favorite spots as well. The visiting park guests freak out when all the birds run up to us when we arrive next to the pen. The Flamingos know our voice and how we have talked to them for quite a while. They nibble on our hair and fingers while tourists take pictures of it all. We love it. I am far from photogenic so, I know it's the birds! (My fiancee is another story. 😉 )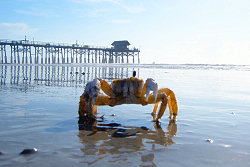 So, what is my point here? Anheuser Busch does many things for the environment and endangered species. Anheuser Busch is really a model corporation. Hey, I am very anti corporate and I still mentioned that fact. I enjoy SeaWorld and Busch Gardens immensely and so does my family. I am thinking it will all go away. I find no other reason to live in this area should we lose Busch Gardens. We could move anywhere in Florida like, Cocoa Beach.
I was wondering if I may be putting the beer wagon before Clydesdale but, I don't think I am. Every time we go to Busch Gardens we get our limit in free beer! I know of no other theme park that does that, do you? I love downing an ice cold Beach Bum, Shock Top or Bare Knuckle on a blazing hot day. Especially when they are FREE! We grab our beers and go sit in the bird show area and watch the latest animal show while we enjoy our beverages. Sporting our Platinum Passes, popcorn buckets, refillable soda cups and all you can eat wrist bands, the kids are well taken care of as well! The kids get a popcorn refill and a big soda for two dollars plus tax. The all you can eat wrist bands were a great idea too! All of that in this great big, beautiful and meticulously maintained garden. Busch Gardens is honestly a "Real Peoples" theme park.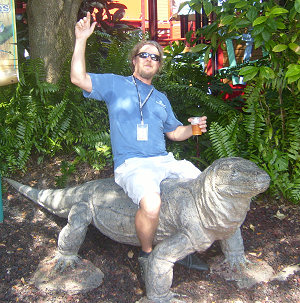 I can honestly tell you one thing for sure. Should all of this be ruined by the InBev purchase, I will guarantee that any and all products associated with that company will be avoided like the plague by more than just our family. Also forget about us ever setting foot in what was Busch Gardens. I will put up a poll & petition here for all to sign. As well as offering a spot to voice your opinion. You can leave a comment below as well.
There were rumors the owners of Six Flags buying the park. Ever been to Six Flags in Georgia? Boy does that place really suck. We all paid full price to get in and left within two hours. One hour was spent waiting to get on just one ride. The ride even sucked. What a disappointing waste of money and time that was. The place was a joke. What is their contribution to the environment and wildlife again? No saving grace there.
Owning theme parks can cost a corporation millions when a theme parks guest is injured. May even be a whole days profit…. right? I believe they will sell quickly.
A detailed Web site describing the proposed deal (now a done deal) has been set up by InBev at http://www.globalbeerleader.com. It describes the potential impact on the beer company's employees, distributors, communities, investors and consumers, but does not mention the parks a single time.
I have provided many means for all of you to express your opinions to varying degrees depending on your passion on the subject here. You may leave a comment, sign the guest book, take a quick survey or sign our petition. Feel free to voice your opinion in any or all of those areas. I really take this seriously, that is why I put so much time into this site. Thank you again for visiting.
08/08/2008 UPDATE! I was just told by an insider that Six Flags is purchasing the theme parks! This is far from official but, I have a friend in the entertainment industry who has always been a reliable source. HOLD ON TO YOUR HATS PEOPLE!
James Conzett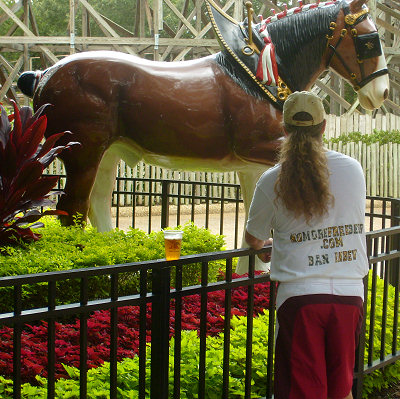 Like the shirt? It reads "NOMOREFREEBEER
.COM
BAN INBEV"
I wore it to Busch Gardens on August 17th 2008. I started many conversations but, no-one said anything to me directly.